06/24/2010
---

 

                         Senior officials of EPRDF and representatives of Friends of Ethiopia discussed yesterday the Fourth National and Regional Election at the Secretariat of EPRDF.
During the occasion, EPRDF Executive Committee Member Ato Bereket Simon elaborated on the election process, the issues being raised after the election, the preliminary reports of the EU and AU election observation missions and the activities underway for the prevalence of democracy in the country as well as the drive to further consolidate multiparty system.  
The Executive Committee Member who appreciated the useful support of Friends of Ethiopia during the preparation of the proclamation for the electoral code of political parties and to the general process expressed his gratitude to the group. 
According to Ato Bereket, EPRDF is willing to work in cooperation with opposition political parties, even if it gained an overwhelming victory. Reiterating the commitment of his party to work with the opposition, the official urged the parties to ready themselves for constructive engagement in the national affairs of the country respecting the constitution. He also told the representatives that EPRDF would sustain its struggle for the consolidation of multiparty system as usual because this is a multitudinous country.   
The representatives on their part raised questions to which the official provided explanations.
Present during the discussion were Ato Hailemariam Desalegn, EPRDF Executive Committee Member and Ato Sekuture Getachew, EPRDF Public and Foreign Relations Department Head. 
Friends of Ethiopia was represented by Mr. Donald Boothe, US Ambassador to Ethiopia; Mr. Antonio Sanchez, Spain?s Ambassador to Ethiopia; Ms. Salle Magur, Ireland?s Ambassador to Ethiopia, and Mr. John Marshal, Deputy Ambassador of UK to Ethiopia.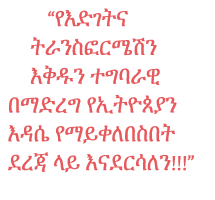 ---

Interview with Ato Temesgen Tilahun, EPRDF Foreign Relations Sector Head
Watch Video
More
---

---