08/26/2010
---

 

                         A four-person delegation of Mozambique?s FRELIMO party has concluded its five-day experience-sharing visit in Ethiopia. 
 On arrival, the delegation led by Mr. Edison D. Grace Francesco Makuakua was accorded warm welcome by Ato Muktar Kedir, Head of EPRDF Secretariat and Executive Committee Member, and EPRDF Executive Committee Members Ato Hailemariam Dessalegn and Ato Bereket Simon. The officials noted on the occasion that the experience sharing between the two parties would create wide opportunity to further broaden successful undertakings. 
The officials gave elaborate explanations with examples on how the EPRDF succeeded in mobilizing the people to realize its national vision by making peace prevail and formulating policies that enhance development. 
 During their two-day stay at the Secretariat of EPRDF, the delegation members were given extensive clarification on the organizational structure and activities of the party, internal capacity building and political organization works, and activities of women?s and youth leagues by the Political Sector, Training Sector, and Organizational Sector Heads in the Council of the EPRDF as well as the Head of the Secretariat of the Youth League. The officials also responded to questions raised by members of the Mozambique FRELIMO party.
In the course of its visit, the delegation, besides visiting infrastructural works undertaken by Addis Ababa Administration, active micro and small-scale associations, the Memorial of Red Terror victims and the National Museum, also held talks with Ato Redwan Hussein, Head of the Secretariat of Addis Ababa EPRDF and Executive Committee Member of the EPRDF. Similarly they met senior officials of TPLF in their one-and-half-day stay in Tigray Region where they also toured development works at various levels, including at kebele peasant association level. They also visited the Monument of Martyrs of Tigray and the Museum of Martyrs.


Members of the delegation said they will make use of the experiences they shared with the leadership of EPRDF and the visit by adapting it to the objective reality of their country. In addition to the visit, the designing of a feasible policy for the country?s development is vividly portrayed by the growth the capital city, the Mozambican delegation noted. The expression of the desire of the people through electing the party is again a clear statement of the public?s satisfaction with the benefits they accrue, the delegation members said, adding that they will work with EPRDF in various sectors in the future. 
In the discussion held on the conclusion of the visit, the delegation members and the officials of EPRDF pointed out that the visit is a prelude to the exchange of experiences between the two parties with long years of struggle and to ensuring the interests of the peoples. The delegation left for Mozambique on August 24, 2010.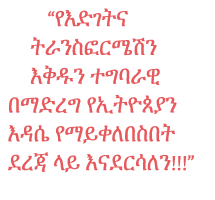 ---

Interview with Ato Temesgen Tilahun, EPRDF Foreign Relations Sector Head
Watch Video
More
---

---