09/14/2010
---

 

                         The Eighth Organizational Conference of the Ethiopian People?s Revolutionary Democratic Front (EPRDF) opened here on Wednesday at Geda Convention Center.
EPRDF Chairperson, Meles Zenawi said while opening the conference, EPRDF, as the conceiver of Ethiopian renaissance, had been able to realize by playing a leading role in this regard over the last seven months.
Meles said the eighth conference has a great responsibility for the continuation of the victories achieved in the last seven years while enabling apply basic structural changes into practice.
EPRDF had successfully accomplished its renaissance activities successfully during the convening of its 4th organizational conference. 
After the renaissance, EPRDF had been able to register an 11 per cent economic growth for seven years straight.
Not only EPRDF had managed to achieve economic growth, but also enabled the public at large to enjoy from the achievements by applying the notion of fair distribution of resources, Meles said.
He said the party has also been able to build democratic system in the country while getting the constitution takes its roots eventually.
Meles said Ethiopia has been on the right track of development by reversing the trend of going back that lasted for over 1,000 years.
If Ethiopia continues to show growth at the current pace, it would be able to join the ranks of middle income economies in the coming one decade.
The Development and Democratic Path in which EPRDF has designed has enabled to realize Ethiopias renaissance.
The unanimous election of EPRDF in the Fourth National Elections which was held recently shows that the renaissance motto has become the voice of the entire population. This is an indicator that national consensus has been brought about successfully.
The conference is expected to endorse the Five Year Growth and Transformation Plan, which is believed to help double the nations Gross Domestic Product (GDP) in the coming five years.
Members of the front had earlier held minutes of silence in commemoration of martyrs.
Five partner parties, EPRDF Support Forum members who came from America, Europe, Canada and 10 political parties of different countries had delivered message of support and felicitation to EPRDF.
More than 1,600 members of the EPRDF, supporters and foreigners, and invited guests took part in the conference. 
The conference is expected to discuss the report of the executive of the EPRDF in its todays and tomorrows deliberations.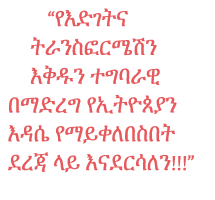 ---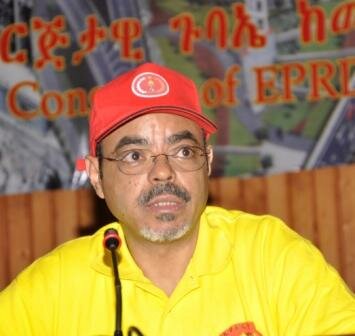 EPRDF chair person Ato Meles Zenawi speech?s to the 8th EPRDF congress
Watch Video
---

---