05/28/2011
---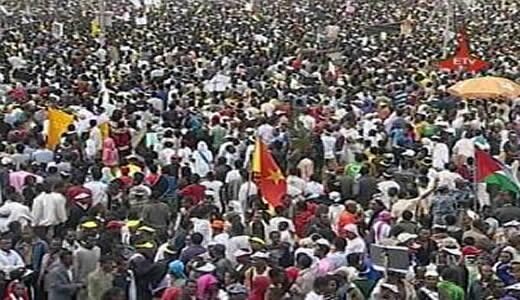 Ethiopians nationwide are celebrating the 20th Anniversary the downfall of the dictatorial Derg regime.
 Millions of Ethiopians took to the streets on Saturday to express their determination to maintaining the shining victories gained over the last two decades. 
They also expressed commitment to realizing construction of the Grand Ethiopian Renaissance Dam. 
 In the capital Addis Ababa, hundreds of thousands of city residents turned up at Meskel Square chanting slogans: ?The Renaissance Dam is the result of May 28,? ?The construction of the Grand Renaissance Dam shall not be deterred,? and many more.
 Addressing the huge crowd at Meskel Square, Prime Minister Meles Zenawi said for Ethiopians, the Grand Renaissance Dam project has a much deeper meaning than generating power.
 It signifies our commitment to consolidate a political system that accommodates our diversity, get out of the quagmire of poverty and ensure our renaissance, he said.
 The project also refutes the old impression of Ethiopia?s incapability to realize any development projects on River Nile with its own resources.
 The Premier said his government is committed to finalizing construction of the Grand Ethiopian Renaissance Dam ahead of schedule time with the minimum possible cost by organizing the public.
 Mayor of the Addis Ababa City Administration, Kuma Demeksa for his part May 28 is a day on which a foundation was laid for peace, democracy and unity.
 He urged all Ethiopians to strengthen their participation for the realization of the GTP and the Grand Renaissance Dam project.